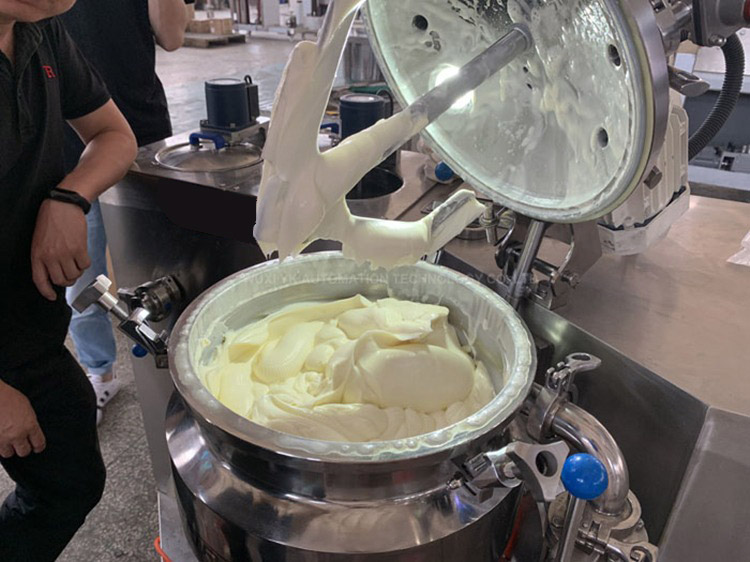 Mayonnaise is one of the most important dressing, it is developped very fast all over the world. More and more companies are interested in the manufacturing of mayonnaise. But they do not know how to make mayonnaise, how to choose the right mayonnaise making machine. This post will tell you then answer you want to know.
How to get a smooth, fine and tasty mayonnaise, the suitable recipes and steps of mayonnaise making is the most important factors.
Mayonnaise recipes
Below is the common recipes of mayonnaise, made of liquid egg yolk or egg yolk powder. You can choose one of it according to your request.
Wuxi PFCT Machinery is a professional mayonnaise making machine factory for laboratory to large-scale mayonnaise manufacturing, making high quality dressing, not only mayonnaise, but also butter, ketchup, sauce, cheese, etc..
This is the details explaination of our mayonnaise making system, from raw material feeding to thick mayonnaise finished. The key is the mixing blades as below and the external loop.
This is the mixing blades with feeding system, it is ok to feed solid and liquid additives dirctly into the dispersing chamber results in fast and complete wetting that avoids the formation of lumps.
The electronic control unit can be set up with a simple button system or a PLC touch scren system with recipe control. On request, machines can be run manually or fully automatically.
Welcome to contact us when you have such request of mayonnaise making machine(not only mixing preparation machine, but also mayonnaise filling machine), we are pleasured to provide more videos for your better understanding.