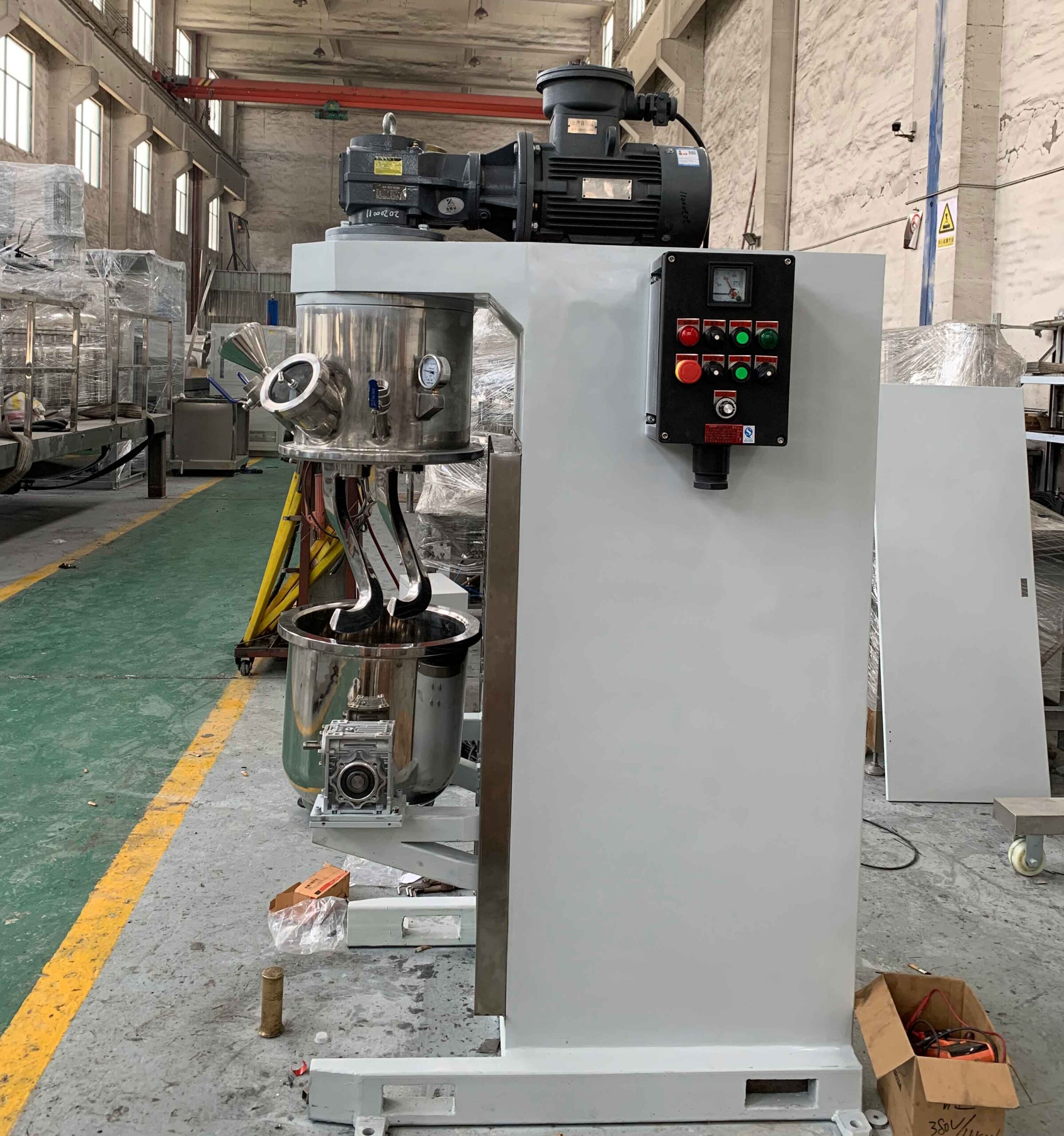 The SXJ Double Planetary Mixer has integrated mixing and dispersing, with the characters of mature technology, stable operation, and convenient maintenance, convenient feeding, mixing and dispersing respectively. The double planetary mixer designed and developed by our own company can meet the new demands of mixing equipment raised by the constantly developing slurry making processes. In the R&D process, we always persisted in the aim of making the drive system more reasonably, the operation more stably, the sealing system more perfectly, the structure of mixing and dispersion more sophistically and the control system more user-friendly, we have developed this mixing equipment whose working process with no dead corner or climbing, and with better air-tightness and temperature measurement accuracy, higher revolving speed, lower noise level, and higher stability.
This planetary mixer is for the mixing of magnetic powder, use hook stirrer. Besides hook stirrer, there are many different stirrers for choice based on the material features. Below are some classice stirrers for double planetary mixer.
Application of double planetary mixer:
Paint, lithium battery, solder paste, paint, graphene, resin, military industry, putty, ink, adhesive, grease, lubricant, new energy, electronic appliances, pharmaceuticals, cosmetics, dental materials, composite materials, solar aluminum Pulp, automobile sealant, adhesive, polymer material, etc.
Suitable material:
Various slurries with material viscosity below 4,000,000cps and solid content below 90%; such as battery paste, automobile sealant, solar cell paste, solder paste, ceramic paste, glass paste, ink, soft ointment, potting Adhesives, hot melt adhesives, white latex, anaerobic adhesives, hardened adhesives, pressure sensitive adhesives, polyurethane adhesives, epoxy adhesives, organic silica gel, conductive adhesives, universal adhesives, polyamide adhesives, laminating adhesives, penetrating adhesives, waterproof adhesives Fireproof adhesive, photosensitive adhesive, special adhesive for construction, special adhesive for solar energy, special adhesive for electronic appliances, special adhesive for automobiles, self-adhesive, double-sided adhesive, silicone adhesive, tunnel waterproof adhesive, thermally conductive silica gel, thermally conductive silicone grease, sealant, structure Glue, MS glue, etc.