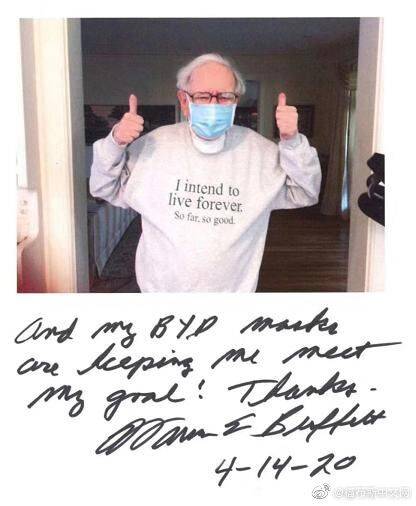 BYD and Softbank of Japan signed a big contract. The whole world knows that even Buffett, the god of shares, also happily put on BYD mask.
On April 14th, US time, Buffett posted photos of himself facing BYD masks on a social platform, his T-shirt write "I intend to live forever. So far, so good."
Coincidentally, shortly thereafter, the California Governor 's Office stated at a video conference that California had reached an agreement with BYD to provide the state with much-needed personal protective equipment, including masks, with a total value of about $10 billion. Subsequently, the California government prepaid about $495 million dollars in advance.
Just when everyone was applauded for "BYD's earning foreign exchange", there were a few sudden news after another.
First, the US FDA stated that it had cancelled the permission of 66 Chinese manufacturers to sell N95 respiratory protective masks in the United States. The list of canceled licenses included BYD.
However, what is unsurprising is that until May 7, BYD masks obtained the FDA's "Emergency Use Authorization" (EUA). BYD temporarily kept his permission.
The contract signed between BYD and California has a delivery date, and BYD's N95 mask still needs to obtain the US NIOSH (affiliated with the US Centers for Disease Control) certification.

According to the contract, California 's order includes 300 million N95 masks and 100 million medical surgical masks. In response to the $10 billion order, the Governor of California, the United States, stated that ten millions of surgical masks had arrived, but the millions of N95 masks originally scheduled for delivery this week were delayed due to NIOSH certification issues. The deadline for the certification agreed by both parties was April 30.

For this reason, BYD needs to refund half of the advance payment (US $495 million) paid by the California mask purchase contract, which is US $247 million .
This is a bit tricky, and the parties expect the contract to be revised. According to the latest contract, BYD needs to refund half of the deposit (US $247 million) to California. At the same time, if BYD fails to obtain NIOSH certification before May 31st, it will refund all remaining deposits.
Netizens are very concerned about this matter, believing that this is a "fairy jump" trick used in the United States, and believe that NIOSH may intentionally delay the certification time of BYD masks.
BYD is a very big company compared with PFCT Machinery in China. They will encounter various problems in the business process, not to mention us? One of our orders was delayed to ship because of the covid-19, and no any update news from customer so far. It is a problem for us too.
Any way, it is a hard year for all the companies, except the industries which is related with covid-19 issue. If you are insterested in improving human health against covid-19, welcome to contact us to inquiry hand sanitizer prepration mixer and filling machines. It is short lead time for fighting against the covid-19.